In 2022, SHCreviewers continue to make outstanding contributions to the peer review process. They demonstrated professional effort and enthusiasm in their reviews and provided comments that genuinely help the authors to enhance their work.
Hereby, we would like to highlight some of our outstanding reviewers, with a brief interview of their thoughts and insights as a reviewer. Allow us to express our heartfelt gratitude for their tremendous effort and valuable contributions to the scientific process.
March, 2022
Michael Lanuti, University of New South Wales, Australia
August, 2022
Bahil Ghanim, University Hospital Krems, Austria
October, 2022
Pauline Go, Penn State Milton S. Hershey Medical Center, USA
March, 2022
Michael Lanuti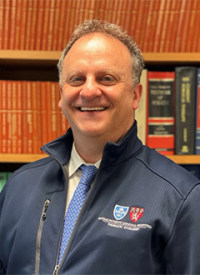 Dr. Michael Lanuti is the Director of Thoracic Oncology and continues to lead a Thoracic Oncology Translational Laboratory with primary focus on molecular therapeutics for lung cancer. He received his M.D. degree from the University of Pennsylvania School of Medicine, USA,after receiving a Bachelor of Science in Bioengineering from the University of Pennsylvania in Philadelphia, USA. He completed his early training in Surgery at the Hospital of the University of Pennsylvania and completed a 2-year research fellowship in a Thoracic Oncology Laboratory focusing on novel treatments for lung cancer. He completed a fellowship in Cardiothoracic Surgery at the Massachusetts General Hospital in Boston, USA. He has been on staff at MGH in the Division of Thoracic Surgery since 2004 and holds a parallel appointment as Associate Professor of Surgery at Harvard Medical School. His clinical interests include minimally invasive lung surgery, complex airway tumours, esophageal cancer, navigation bronchoscopy, percutaneous and bronchoscopic thermal ablation of lung tumours.
SHC: Why do we need peer review? What is so important about it?
Dr. Lanuti: The field of human biology and medicine are increasingly complex where contributions to the medical literature require more sophistication and expert knowledge. New ideas and experimentation should not be introduced to the medical literature without some level of criticism and scrutiny to improve the delivery of new knowledge that will benefit the medical community. Peer review with experts in the specific research field of interest is paramount to reducing the propagation of questionable scientific methods, improving transparency, and providing authors with constructive advice to enhance the research.
SHC: Would you like to say a few words to encourage other reviewers who have been devoting themselves to advancing scientific progress behind the scene?
Dr. Lanuti: Peer review is a fundamental principle in the conduct of research submissions and the medical community needs dedicated experts to advance the field with honesty and integrity. There is no question that peer review takes time and extra work from experts in the field, but the quality of the literature is dependent on peer review and the advancement of medicine.
SHC: From a reviewer's perspective, do you think it is important for authors to follow reporting guidelines (e.g., STROBE and CARE) during preparation of their manuscripts? And why?
Dr. Lanuti: Guidelines for reporting medical research provide a universal construct to improve the quality of new submissions, improve accuracy and permit readers to assess the validity of the work more easily. Compliance with guidelines can be challenging for journals, but the effort will ultimately improve the integrity of the medical literature.
(By Lareina Lim, Brad Li)
August, 2022
Bahil Ghanim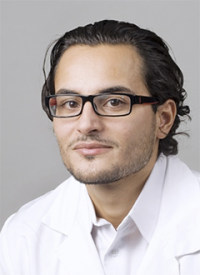 Bahil Ghanim currently serves at Karl Landsteiner University of Health Sciences and University Hospital Krems, Austria. His research interests include Thoracic Surgery and Thoracic Oncology, Biomarkers, Cancer Research, Immune-Oncology, Rare Diseases of the Chest including Malignant Pleura Mesothelioma and Solitary Fibrous Tumor of the Pleura. The recent project is Biomarker research on outcome after lung sparing surgery for Malignant Pleural Mesothelioma. Connect with Dr. Ghanim on LinkedIn.
Dr. Ghanim thinks that a healthy peer-review system has to improve and ensure the quality of the manuscript. It should be always helpful to the authors regardless of the decision. After a good peer review, both the reviewer and the authors have improved the manuscript together and both have gained in terms of scientific knowledge. He reckons that a reviewer should be expertise on the field and should be always unbiased.
In Dr. Ghanim's opinion, the institutional review board (IRB) is the most important quality check before starting a project. It is the first time that researchers ask other peers what they think about a certain project and therefore the first step from an idea towards a publication with good quality.
"I think SHC is a promising journal that will play an important role in the field of thoracic oncology and thoracic surgery. These are also my research interests and thus the journal fits perfectly to my research scope," says Dr. Ghanim.
(By Lareina Lim, Brad Li)
October, 2022
Pauline Go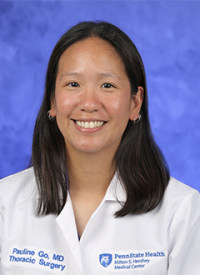 Dr. Pauline Go is a thoracic surgeon and surgical intensivist at Penn State Milton S. Hershey Medical Center in Hershey, Pennsylvania. She has an undergraduate degree (BS) in Information and Computer Science from the University of California, Irvine and received her MD at St. George's University in Grenada in 2011. Then, she completed a general surgery residency at Henry Ford Hospital in Detroit, Michigan in 2016, followed by a surgical critical care fellowship at the University of Michigan in 2017 and cardiothoracic fellowship at the University of Iowa in 2019. She is currently an assistant professor of surgery and full-time faculty for the general surgery residency, cardiothoracic surgery fellowship and anesthesia critical care fellowship at Penn State College of Medicine. Her clinical and research interests include robotic thoracic surgery, thoracic surgical oncology, perioperative care and enhanced recovery after thoracic surgery and surgical education.
Dr. Go reckons that peer review is necessary to maintain high-quality research that is being published within the scientific literature. Without objective and unbiased peer review, there is no way to ensure validity of the information being disseminated. A multidisciplinary review from experts in different fields offers a broad perspective on a topic, further solidifying its importance and relevance to its field of study.
In Dr. Go's mind, a reviewer must always be cognizant of his or her own potential biases, both conscious and unconscious. This level of self-awareness is critical when deciding whether to accept the responsibility for reviewing a manuscript. Moreover, she thinks that a reviewer must have the insight to recuse oneself from peer review if there is any potential conflict of interest.
"Peer review is a critical but often underappreciated part of scientific discovery and progress. By offering your expert appraisal on a manuscript, you play an equally important role in advancing scientific progress as the authors," says Dr. Go.
Dr. Go believes that the core of scientific advancement is global collaboration, which offers the opportunity to view data from multiple perspectives, resulting in multi-dimensional discoveries. This collaboration would not be possible without the ability to share data. By restricting data, scientific progress would be impeded by redundancy and wasted efforts to reach the same conclusions.
(By Lareina Lim, Brad Li)